Volition & Discovery Foundation Present BC Startup Showcase
This showcase is part of Discovery Foundation's Regional Investor Readiness Program & will feature 8 startups from across BC.
Volition is proud to be one of the Discovery Foundation Agents for the 2021 Technology Education Program (TEP).
As part of the TEP, Volition will be delivering Discovery Foundation's Regional Investor Readiness Program throughout 2021, offering entrepreneurs across B.C. an opportunity to accelerate their business and investor readiness skills through pitch masterminds, coaching, and B.C. Pitch Showcases.
LINK TO JOIN: Zoom Webinar – Available upon registration
APPLY TO PITCH (until 10 PM PST November 25th): https://thisisvolition.typeform.com/to/n32BAN4k
..
What to Expect
On December 8, join us to cheer on eight startups from across British Columbia, who will take the virtual 'stage' to present their investor pitch with goals of getting strategic pitch feedback from industry leaders from the Canadian startup ecosystem.
Attendees! You will have the opportunity to vote on your favourite company, as well as engage with entrepreneurs and panel via polls, Q&A and Live Chat. If you want to support the entrepreneurs or just connect, we'll provide space for that as well.
.
.
Interested in pitching?
At a pitching company, you will have 3 minutes to present your startup pitch in front of an industry panel and 'live' audience. The panel will provide you with strategic feedback, and you will have the chance to earn Top Pitch or Runner Up, along with in kind rewards from local sponsors.
Pitch applications will be accepted until 10 PM PST November 25th: Pitch https://thisisvolition.typeform.com/to/n32BAN4k
..
RUN OF SHOW:
12:00 PT: Check-in and Opening Remarks. Introduction of feedback panelists and appreciation for sponsors and partners
12:20 – 1:40 PT: Pitch and Presentations from startups
1:40 – 1:50 PT: Panel Deliberates and Audience vote
1:50 – 2:00 PT: Announce Top Pitch and Runner Up + Wrap Up
.
.
FEEDBACK PANELISTS:
Kookai Chaimahawong: Co-Chair of Vancouver Entrepreneurs Forum and Member of Canadian Women in VC .
Helina Patience: (CPA, CMA), Founder of Entreflow Consulting Group and CFO of Legible
..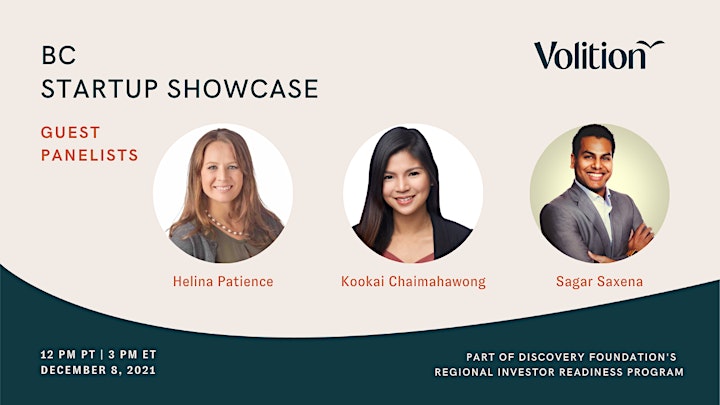 About Volition
Volition is an organisation of experts that aims to build capacity, connectivity, and knowledge within the global startup ecosystems through:
Partner Programs
Coaching
Community Events
We believe that you never know what can come from a conversation and continually look for ways to create opportunities for connection and collaboration. Volition has hosted over 100 Pitch Events across Canada, the U.S., and Europe, with 6000+ audience members and over 690 startups pitching at these events.
About Discovery Foundation
A registered charity, the Discovery Foundation has been a committed champion and enabler of the science and technology sector in BC since its formation in 1979. Its principal activity is the delivery of the Technology Education Program via agents that provide education and guidance to entrepreneurs in BC. When possible, the Foundation also provides funds for research and scholarships.
THANK YOU TO OUR GENEROUS PARTNERS & SPONSORS:


Volition & Discovery Foundation Present BC Startup Showcase
Date:
December 8, 2021 @ 12:00 pm - 2:00 pm
Location:

Organizer:
Volition Events